Gourmet Pocket
2 Pk
Plant-based hickory smoked style ham, dairy free shredded mozzarella style cheese & dairy free cheese sauce, stuffed into our signature soft, homestyle dough.
PER 1 POCKET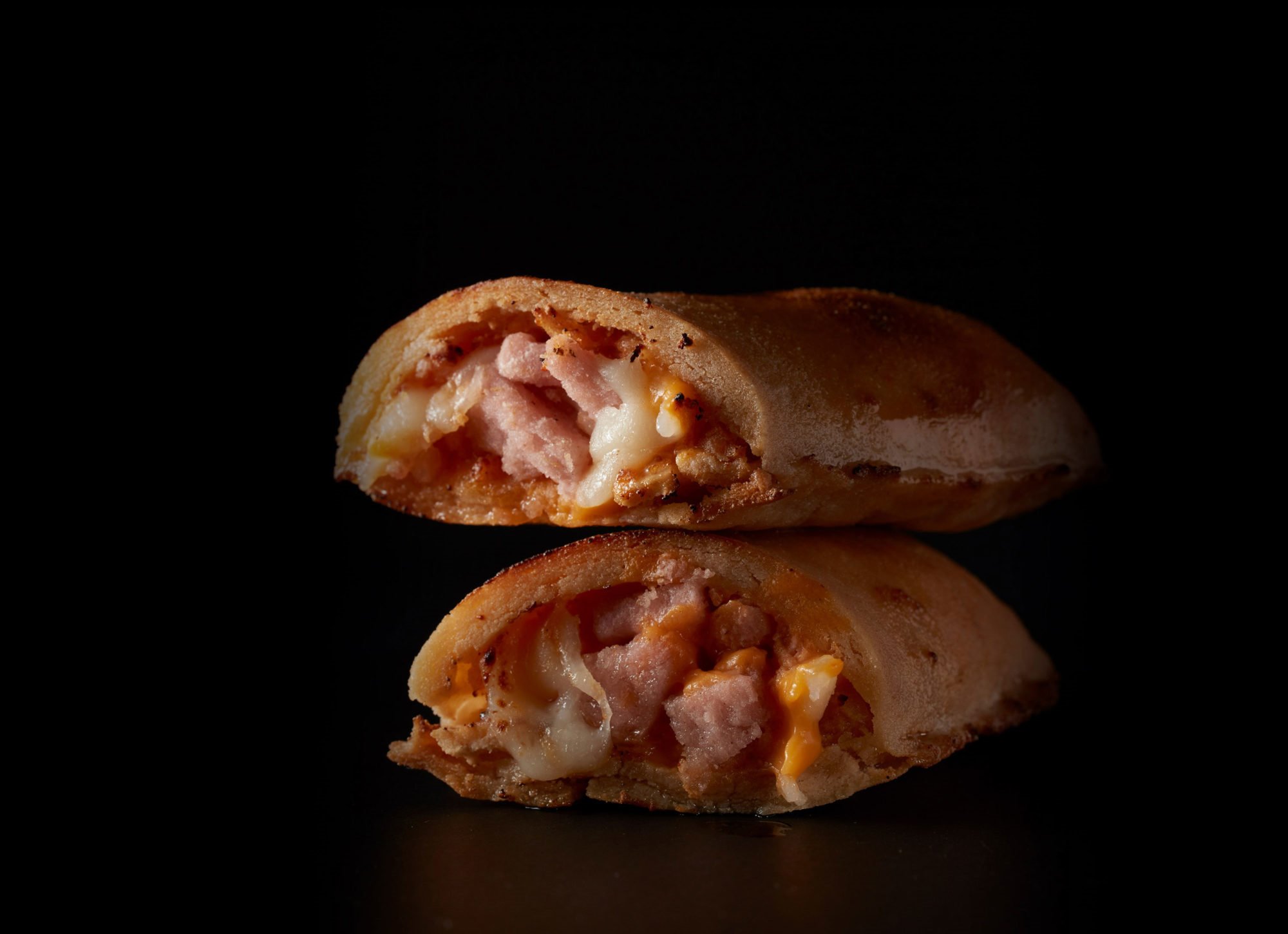 Ingredients
Water, Brown Rice Flour (Rice, Stabilized Rice Bran), Avocado Oil, Potato Starch, Konjac Root Powder (Amorphophallus konjac), Tapioca Starch, Nutritional Yeast, Organic Apple Cider Vinegar, Sea Salt, Agar Agar (Red Seaweed Rhodophyceae), Natural Flavors, Organic Aji Amarillo Paste (Fresh Amarillo Chiles, Purified Water, Citric Acid), Gluconic Acid, Smoked Sea Salt, Brown Rice Protein, Beet Powder (For Color), Oat Flour, Pea Protein, Extra Virgin Olive Oil, Raw Cane Sugar, Active Dry Yeast (Yeast, Sorbitan Monostearate), White Rice Flour, Milled Flax Meal.
Product does not contain any of the 8 major allergens as recognized by the FDA.
Manufactured in a facility that processes Eggs, Milk, Wheat & Soy.
Refer to the actual packaging for the most updated Nutritional Fact Panel and Ingredient Statement. FOR FOOD SAFETY AND QUALITY, READ AND FOLLOW THESE COOKING INSTRUCTIONS TO ENSURE PRODUCT REACHES INTERNAL TEMPERATURE OF 165˚F, AS MEASURED BY A FOOD THERMOMETER. DO NOT THAW, KEEP FROZEN.
Heat.
Open one end of the wrapper. Keep pocket in microwave safe sleeve, and microwave on High for 1 minute 45 seconds (1200W) / 3 minutes (for Lower Wattage/Compact Microwave).
Eat.
Let stand 2 minutes. Check that the pocket is cooked thoroughly. Enjoy!
Repeat.
Enjoy Again & Again!
Heat.
Preheat oven to 350°F. Unwrap one frozen sandwich and discard wrapper. Do not use wrapper in oven. Bake on a cookie sheet in center of oven for 28-30 minutes.
Eat.
Let stand 2 minutes. Check that the pocket is cooked thoroughly. Enjoy!
Repeat.
Enjoy again & again!
CAUTION: PRODUCT WILL BE HOT! Microwaves and ovens vary. Cooking times may need to be adjusted. Temperatures above 350°F and/or failure to use a cookie sheet may cause damage to the food and/or oven.
You might also like: